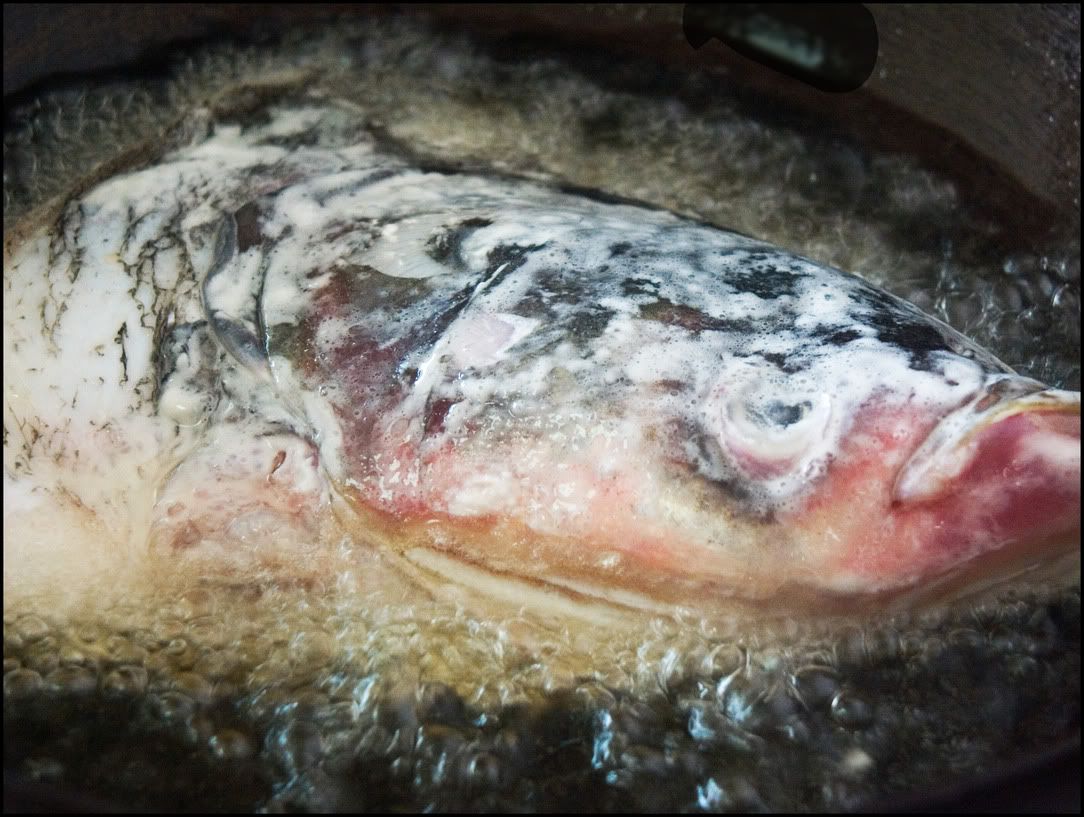 Claypot fish head is like a reliable friend. It turns out beautifully every single time and never fails you. No real skill is called for. It just needs a bit of time. It reheats very well and in fact, tastes better reheated. You can cook it early in the day and when you, and maybe some friends, are ready to eat, it's there for you. It's highly adaptable to your requirements. Just add more pork, Chinese cabbage and bean curd when there are more people at the table. If you have one or two ingredients missing, add more of what you have. And you keep adding . . . until there is so much delicious stuff in one pot, there is no need for anything else. Like truly good friends, one is enough.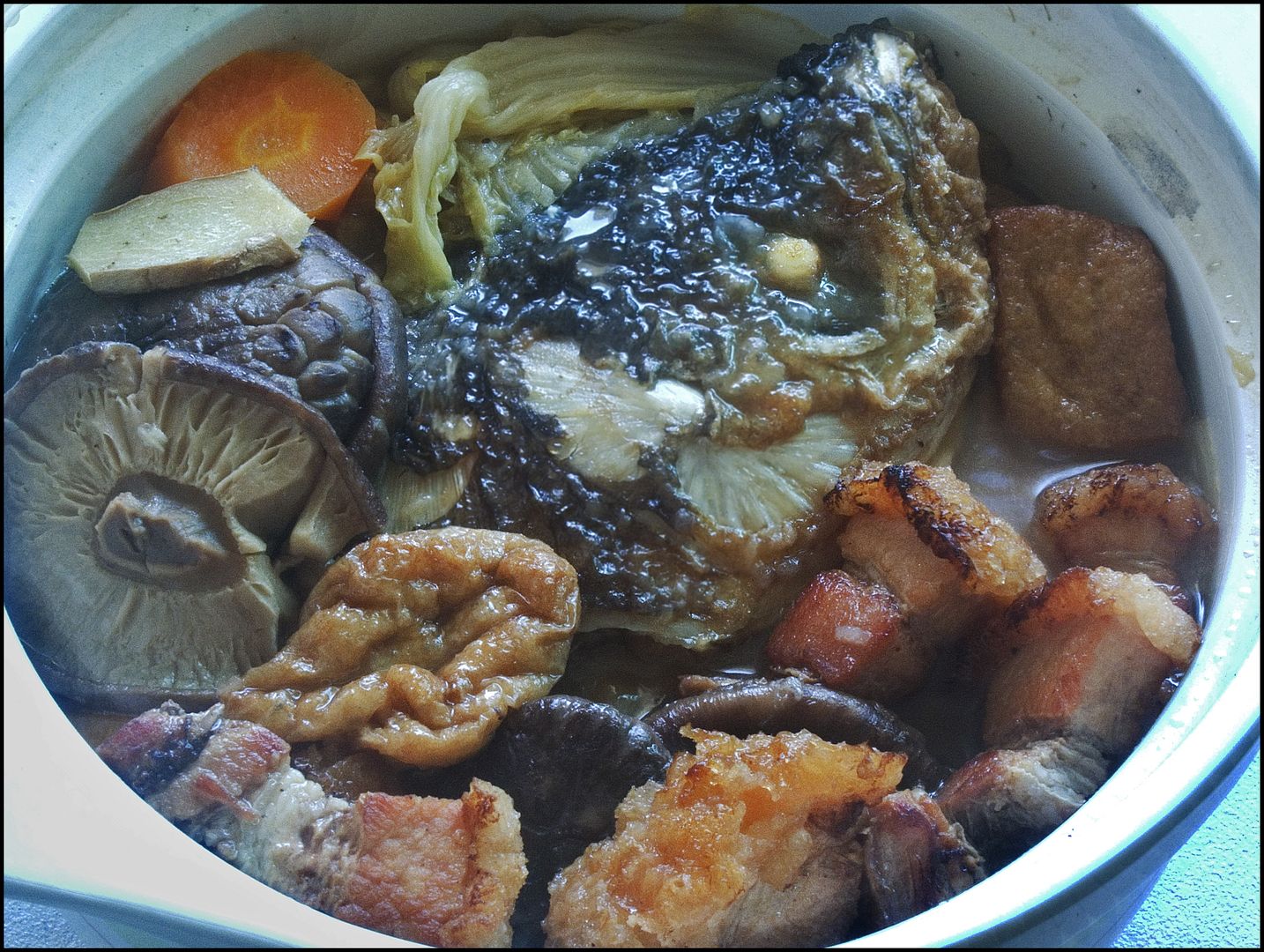 Making claypot fish head is not difficult at all. The fish head has to be deep-fried but there is none of that crispy outside and juicy inside business. So long as the fish head is golden brown, it doesn't matter if the inside is raw or overcooked. Stir-frying the Chinese cabbage doesn't require any special talent either. It's just to let the Chinese cabbage absorb some oil and soya sauce. Whether it's crisp or soggy, it's perfectly okay because it's going to be braised anyway. Browning the pork couldn't be easier. Any one can brown small pieces of meat, right? The real work is done by the ingredients when the braising starts. The mushrooms, fish, pork, bean curd and Chinese cabbage join hands to form an alliance so tasty and nutritious, it's a complete one-pot dish.
CLAYPOT FISH HEAD


(For 2 persons as a one-pot dish)



½

fish head, about 500 g (or a fish tail or fish fillets)
300 g Chinese cabbage, washed and cut crosswise into 2-inch long pieces
30 g Chinese dried mushrooms
150 g roast pork (or pork belly), cut crosswise into 2-inch wide chunky pieces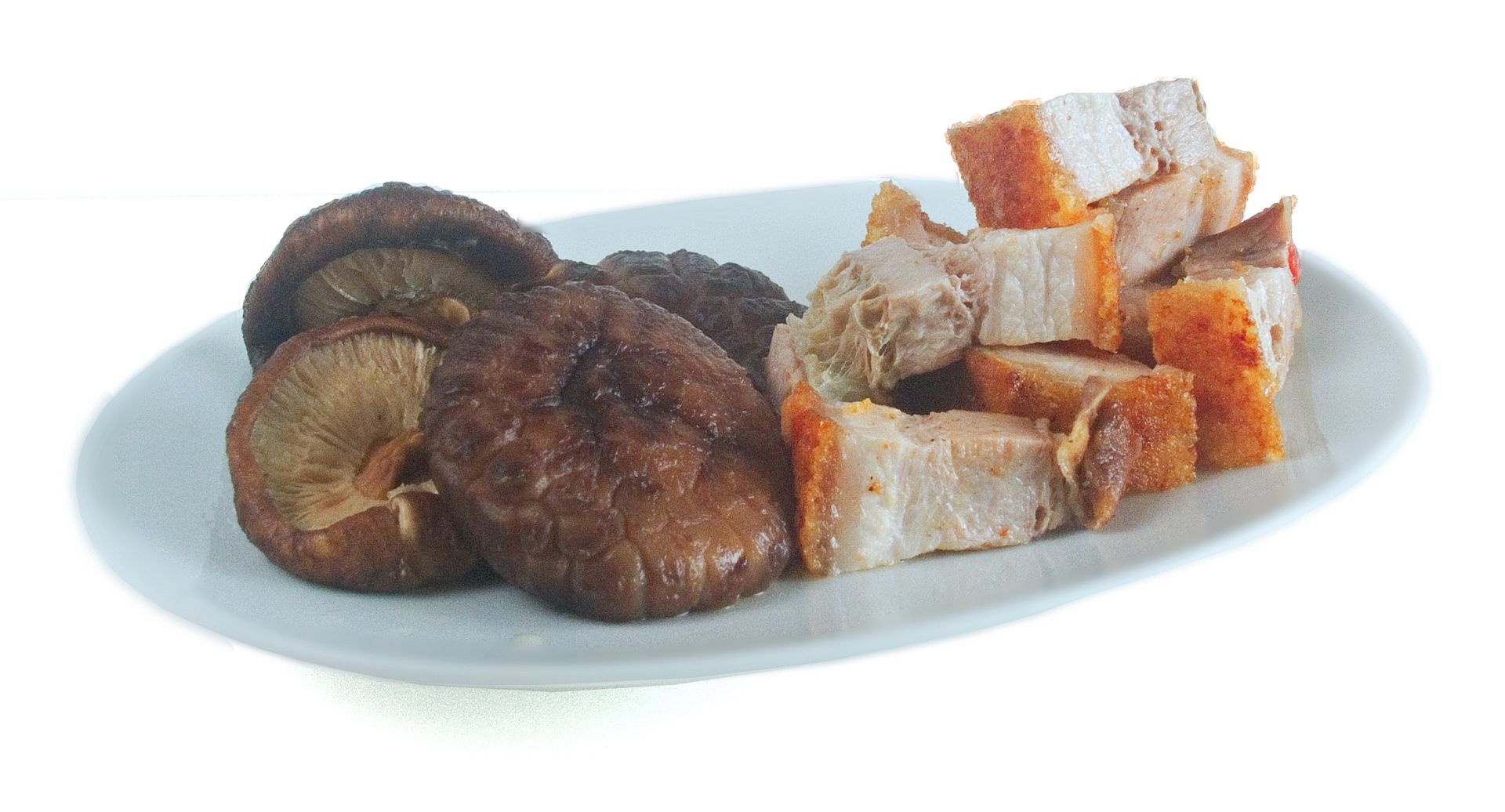 1 small carrot, cut into large chunks
10 pieces (

small)

bean curd puffs (

taupok

)
2 tbsp light soya sauce
2 tbsp Chinese cooking wine
2 large pinches salt
3 tbsp cornflour
3 slices ginger
2 cloves garlic, minced
1 cup vegetable oil


Wash dried mushrooms and soak in water till soft, about 30 minutes. Drain and squeeze dry. Set the water aside. Cut mushrooms into halves, or quarters if they are big.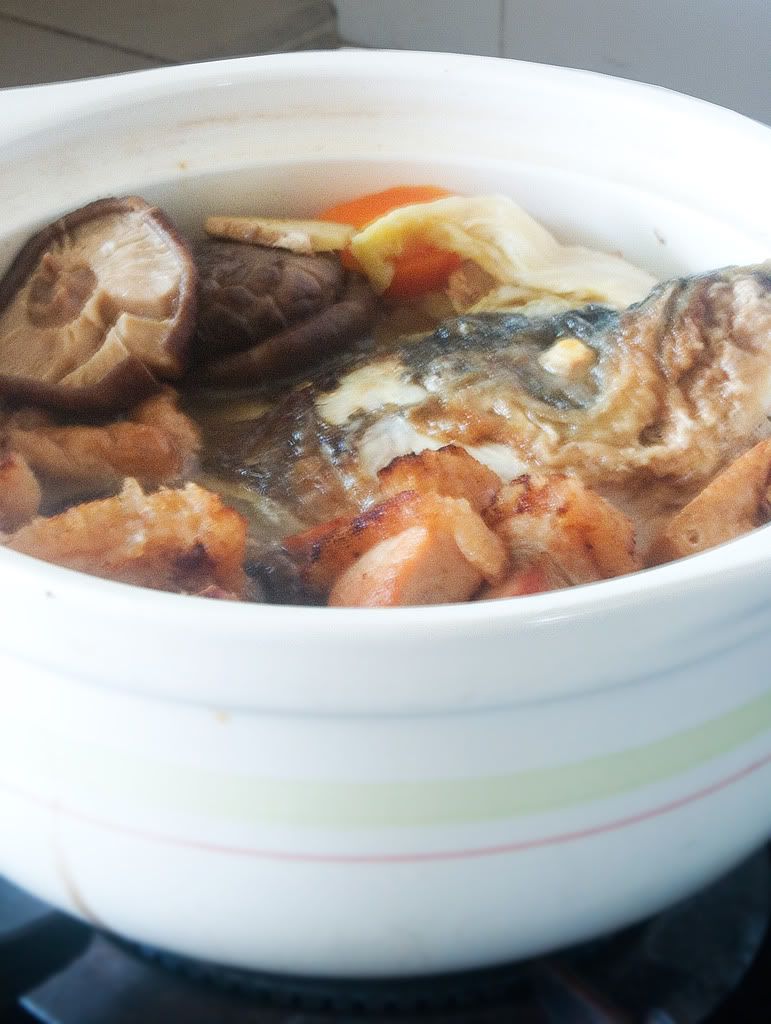 Heat 1 tsp oil in a wok till hot. Brown roast pork on high heat. If using pork belly, season with salt before frying.

Add mushrooms, garlic and ginger to the wok. Fry till garlic is golden brown on high heat. Add Chinese cabbage and stir-fry till wilted. Add soya sauce and Chinese cooking wine. Continue stirring until cabbage absorbs soya sauce and wine. Remove to claypot. Add carrots and bean curd puffs (

taupok

). Add mushroom water and water to almost cover all ingredients. Bring everything to a boil, lower heat and simmer gently for 30 minutes. Meanwhile, prepare fish head.

Wash fish head. Remove gills and scales. Pat dry with paper towels. Season with salt and coat with corn flour. Heat oil in a wok till smoking and deep-fry fish head till golden brown on both sides. Remove from wok and set aside.

Remove about half of the ingredients in the claypot after simmering for 30 minutes. Add fish head to the pot. Put back ingredients. Top with more water to almost cover all ingredients, bring everything back to a boil, and simmer gently for 15 minutes. Taste and adjust seasoning if necessary. Bon appétit!