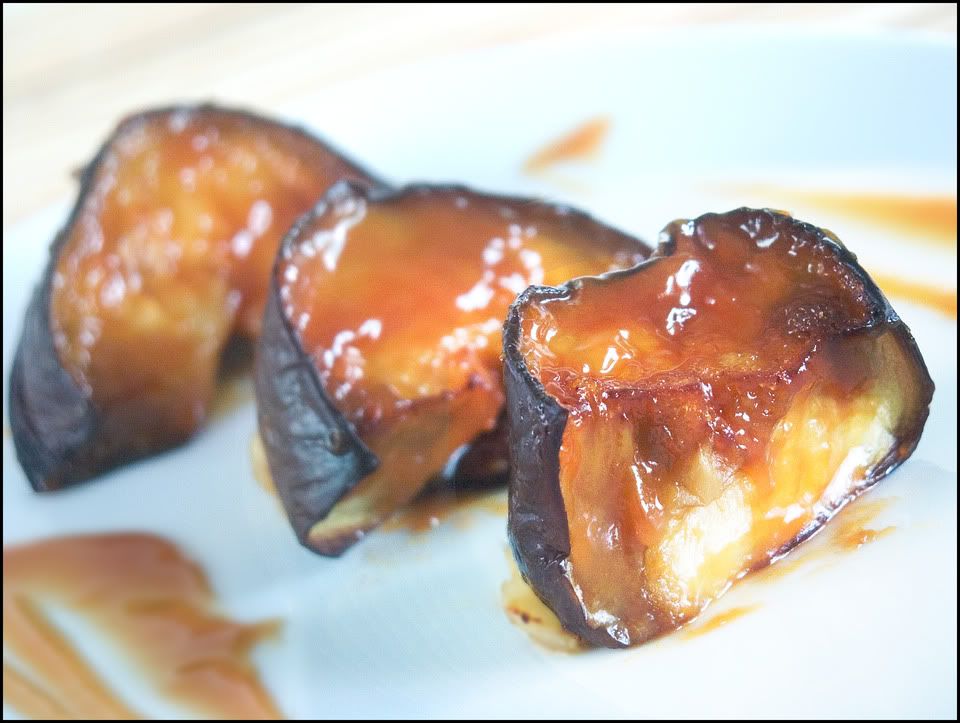 So, I was saying yesterday I had two more enormous eggplants in t1he fridge. Well, there's none left now. I've cooked both with the leftover miso paste which I had used to make
Miso Cod
. I was going to leave one but I was afraid it might get cold and lonely in the fridge . . . haha. I was wondering if I made too much but after I tasted a piece of the slightly charred eggplant, the thought flew out the window. It was mmm mmm mmm mmm MM! The miso enriched with mirin, sake and sugar was awesome with the smoky, lightly burnt eggplant! It was much more distinct than in the Miso Cod dish since eggplants have a more neutral taste compared to cod. I was planning on keeping some for tomorrow – baked eggplants are delicious cold – but before I knew it, I was wiping the last drop of miso from the plate with the last bit of eggplant! As I savoured the final morsel of sweet and soft eggplant, I suddenly remembered Mum used to make steamed eggplants dressed with Chinese fermented soya beans. I must say this Nobu version is much better. I think the mirin, sake and sugar orchestrate a rounder and more mellow flavour compared to Chinese fermented soya beans performing solo. I'm definitely getting more eggplants for a Japanese encore.
Check these out:
Bitter Melon
Soup with Chicken
Stir Fried Eggplant
with Chicken

Sichuan

Spicy
Kung Pao Prawns
Chai Poh (Preserved
Turnip) Omelette
BAKED EGGPLANT WITH SWEET MISO


Source:

Nobu


(For 4 persons)

600 g eggplants (4 Asian or 2 globe eggplants)
60 g white miso
30 g sugar
4 tsp mirin
4 tsp sak

é


2 tbsp vegetable oil

Preheat oven to

220°C (430°F)

. Line baking tray with parchment paper.

Wash eggplants and cut into chunky stumps about 1½ inches thick. Brush with vegetable oil and bake for 30 minutes till soft and slightly brown.

Bring mirin and sake to a gentle boil on low heat. Add white miso and sugar, and stir till smooth. Remove from heat. (Leftover miso mix may be stored in the fridge.)

When eggplants are cooked and soft, switch the oven to the grill mode. Brush eggplant tops with miso mixture and grill for about 5 minutes till the miso bubbles. Garnish with some toasted white sesame seeds if you are so inclined. Serve.
.